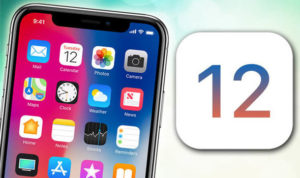 Today was the day that all Apple fans were waiting for. At the end of this afternoon, we officially got to know the three new iPhone that the company prepared for us. In addition, the company of Cupertino informed us when will arrive the final version of iOS 12.
Apple IOS 12 was introduced to the world in June of this year. It was at Apple's annual conference for its developers that we got to know the latest news from the latest version of its operating system.
Update For Samsung Galaxy A3 and Galaxy A5
This version of iOS will not bring users big changes. Above all, the iOS 12 is characterized by the improvement of some details that will surely mean a lot for your day to day activities.
In fact, one of the great promises of the American company for this version is speed. Something that will be transversal to all devices contemplated and of great significance, especially for the older models.
Apple's iOS 12 will officially arrive on September 17
There are still other news of this operating system that should be saved. Certainly, the one that will gather more followers is the grouping of notifications that you will receive.
That's the end of the mess that characterized iOS. From now on, Apple's operating system will group notifications together so that everything is more intuitive for the user.
In addition, we will have news at the level of Augmented Reality, Siri, Animoji, Facetime and more. But the question that prevails among Apple users is knowing when the new iOS 12 will be officially released.
The answer to that is September 17. It will be next Monday that the Cupertino company will release the final version of its new operating system. In fact, during that day you will certainly be notified for the arrival of iOS 12 to your Apple device.
Next, remember all iPhone and iPad devices that will be eligible for this update. To know:
iPhones
iPhones
iPhone X
iPhone 8 Plus
iPhone 8
iPhone 7 Plus
iPhone 7
iPhone 6S
iPhone 6S Plus
iPhone 6
iPhone 6 Plus
iPhone SE
iPhone 5S
iPads
iPad Pro 12.9 "inches
iPad Pro 10.5 "inches
iPad Pro 9.7 "Inch
iPad 5 generation
iPad Air 2
iPad Air
iPad Mini 4
iPad Mini 3