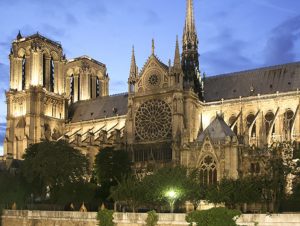 This week, the Notre Dame Cathedral in Paris was badly damaged due to a fire that damaged the historic building. Apple CEO Tim Cook expressed the company's desire to help rebuild the cathedral.
Cook wrote that Apple will donate funds to help restore the legendary cathedral. Tim did not disclose any specific details; he only noted that the cathedral is a valuable heritage and must be restored for future generations.
We are heartbroken for the French people and those around the world for whom Notre Dame is a symbol of hope. Relieved that everyone is safe. Apple will be donating to the rebuilding efforts to help restore Notre Dame's precious heritage for future generations.🇫🇷

— Tim Cook (@tim_cook) April 16, 2019
The cause of the fire remains unknown at the time of publication. However, the main version is associated with the restoration work that took place in the cathedral. Initially, they should have been completed by the end of this or by the beginning of 2020. At the moment it is known that only two people suffered from the fire, but all remained alive.