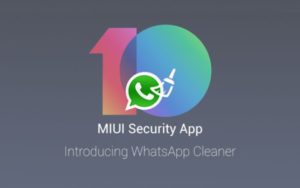 Already it has become common practice, manufacturers implement in their interfaces tools that help users to maintain their smartphones. Xiaomi also does, and has now announced a new tool from MIUI 10 that will help optimize the use of WhatsApp.
Xiaomi smartphones already offer various security and maintenance tools. In order to help users get the most out of their devices. Now with the introduction of the WhatsApp Cleaner, it will be easier to reduce the impact of messaging on your Xiaomi smartphone.
The WhatsApp application itself brings functionality to storage management, however a few important options end up missing out. The messaging application is one of the most used globally, being present in virtually all Android smartphones.
However, the more you use WhatsApp, the more space you'll end up complaining on your smartphone. Sometimes it even reaches surprising dimensions. With all the messages you receive, either from your friends or in groups you participate, all media files are eventually stored in the internal memory.
Xiaomi smartphones receive WhatsApp Cleaner tool at MIUI 10
Thus, photos and videos are stored automatically. This applies to both the files you receive and the ones you upload, making it even easier to accumulate unneeded files on your smartphone.
With this new tool brought to MIUI 10, you will quickly and easily clean the internal memory of your Xiaomi smartphone. WhatsApp Cleaner will allow you to perform a mass cleaning. This can be extremely practical in many situations.
However, you will not be able to select specific chat files  . Although this is a feature that many users would love to have at their disposal. On the other hand, it will allow you to specify if you want to delete photos or videos, helping a lot in the final selection.
Finally, the manufacturer revealed that the new tool is now available for smartphones that have the MIUI 10  global beta . However, all smartphones that will receive MIUI 10 will also receive this new maintenance tool.