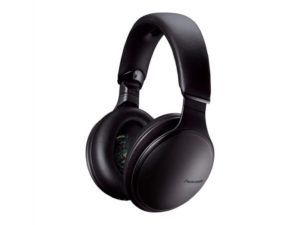 Panasonic unveiled the new Noise Cancelling HD605N wireless headphone model, available in black and brown! The headphones are equipped with three noise canceling modes (low, medium, high)!
In order to create the perfect audio environment suited to the environment, both for wireless and cable use.
Panasonic HD605N premium headphones offer:
Three noise canceling modes for pure sound
Authentic high-resolution sound with Bluetooth and also cable connection
Greater comfort thanks to its ergonomic 3D design
Its ergonomic design features a 3D spherical joint structure allowing it to be easily folded, as well as 3D cushions for added comfort.
Dive into the sound
The HD605N headphones are equipped with three noise canceling modes (low, medium, high)! That create an ideal audio environment!
Thanks to the microphone arrangement outside the enclosure and the loudspeaker unit near the eardrum. The headphones prevent any annoying noise from entering, thus achieving excellent noise canceling performance. In parallel, the HD605N also features an ambient sound enhancement! That works simply by bringing the hand to the right earpiece, letting the outside sound easily pass when it is needed.
This feature is especially useful when the user needs to talk to someone or while waiting for a call at the airport.
In addition, the new headphones allow you to enjoy music hours, both at home and away, for approximately 20 hours of continuous playback * 1 when noise cancellation is enabled. With fast charging, they only need to be charged for 15 minutes to enjoy 120 minutes of playback.
Exceptional sound reproduction with greater comfort
In short, the new headphones deliver high-resolution wireless audio, full of delicate nuances and details that faithfully reproduce ambient acoustics while listening to music on the go.
The HD605N achieves notoriously robust bass sounds thanks to the construction of high quality materials! Like the 40mm HD speaker unit.
The headphones are also designed to fit comfortably with every user! For example, the 3D spherical joint structure allows headphones to fit all head and ear formats.