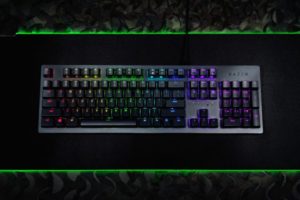 In recent days, Razer  has made some teases to a new release on social networks! Promising in all of them, speeds faster than the light itself in play! Despite several bets from some users who spoke of the release of a new mouse, they were very much mistaken!
Well, Razer will even launch two new keyboards with the new 'Opto-Mechanical' switches, which are a middle ground between optical and mechanical switches.
The new line 'Razer Huntsman' was launched today! With the new 'Opto-Mechanical' switches under the hood!
These switches use an infrared beam to detect very accurately when a key is pressed. This with a point of action of 1.5mm, which together with the mentioned beam, registers a key 30% faster than a traditional mechanical keyboard.
In this way, Razer can offer the speed of the linear switches, but with the satisfaction of an audible click like in the 'Razer Green Switches'.
On top of all this, the 'Opto-Mechanical' switches have a lighter performance with a force of only 45g! Being able to handle up to 100 million clicks, making these 2x keyboards more resilient than traditional mechanical keyboards!
All thanks to the new optical laser, which ensures the existence of fewer moving parts at each keypress. In parallel, it also ensures that there is no contact during actuation, reducing the degradation of the components.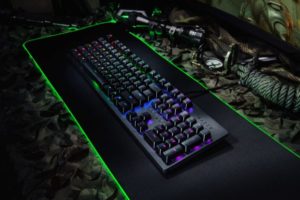 In short, there will be two keyboards with these new switches! The Huntsman and the Huntsman Elite.
The Elite version offers some extra features like dedicated multimedia controls as well as a digital multi-function disc that can be programmed for a wide variety of functions in Razer Synapse. The 'Huntsman Elite' also includes the classic magnetic wrist pad! As well as internal storage so you can save your personal settings directly on your keyboard.
But the normal version 'Huntsman' does not have any of these extras, so it will also be a bit cheaper! It will cost € 159.99 in Europe, while the 'Elite' version will cost € 209.99.