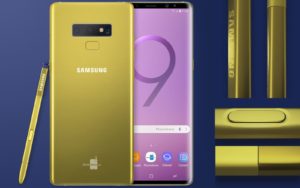 Yesterday we knew officially that the Samsung Galaxy Note 9 would arrive on August 9 in New York. The South Korean company already has the new equipment ready for launch and many brand lovers are eager to know what will change in phablet.
Well, these Samsung lovers can take a little heartbreak on August 9th. New information ensures that the next Samsung Galaxy Note 9 should not be much different from the predecessor.
The well-known leakster  Eldar Murtazin, said that the differences will not be many. This will be for Note 8 the same as the Galaxy S9 is for the S8. That is, equipment that improves something that is not perfect.
Apparently, the front will be basically the same. The differences will be so small that they will not be noticed with the naked eye. The back is where the design changes slightly.
Samsung Galaxy Note 9 should not take long to reach our shelves
As in S9, the Samsung Galaxy Note 9 will change the position of the biometric sensor. It will also change the position of the rear chambers. Instead of lying horizontally, the Galaxy Note 9 should have the rear cameras just like the Galaxy S9 upright.
It was mentioned that the biggest changes are in SPen. Of course many say SPen will be improved, but no one has a concrete idea what.
The Samsung Galaxy Note 9 will arrive with a battery of 4000 mAh Exynos 9810 processor (Snapdragon 845 in the US) and 6GB of RAM. The variant with less memory should dial 128GB of internal storage.
We will also have a variant with 8GB of RAM and 256GB or 512GB of internal storage.
These should be the great differences and characteristics of Note 9 vis-à-vis the predecessor. As already mentioned, it is expected that the great technological evolution is saved for the Galaxy S10 and if this information is correct it is likely that this is correct.