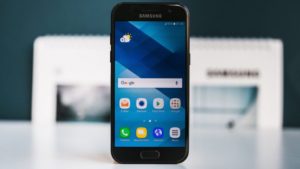 After we have announced the details of the June security update, it has already begun to be distributed. This is the latest security patch for the Android operating system, compiled by Google. Now come the Samsung Galaxy A3 and Samsung Galaxy A5 2017.
This new firmware (system software) Android thus begins to reach both mid-range terminals. In effect, they are effectively the first to receive the latest June security update.
It should be noted that the "Galaxy A" line represents the mid-range segment. The "Galaxy J" line has its low range/input. On the other side we have the "Galaxy S" and "Note" in the high / premium segment.
Note that by default the most economical devices are the first to receive security updates. Almost paradoxically, they are also the ones who are most waiting for system updates.
Samsung Galaxy A3 and Galaxy A5 (2017) receive the June update
Month after month, it became almost a habit to see the "J's" or "A's" receiving the news first hand. Note that this security update continues to be based on Android Oreo, also fixing one of the bugs that were affecting these devices. In fact, especially for the Galaxy A3 (2017), corrects itself thus the instability felt with the last update of the system (that brought us Android Oreo).
Now the latest security update for the Samsung Galaxy A3 (2017) begins to reach the various markets worldwide. The South Korean manufacturer has released the firmware that can be identified by version number A320fxxu3cre5.
This Android system firmware (software) is reaching users via OTA (over the air). The file can be downloaded HERE through the Sammobile publication database for anyone who wants to install it manually.
Security update keeps the system on Android Oreo
On the other hand, also the Samsung Galaxy A5 (2017) began to receive the same security update. It can be identified by the version number A520FXXU4CREF, which can be downloaded HERE from the same source.
If the user of any of these smartphones wants, you can install the firmware manually via the ODIN software. For this, you will also need help from your computer (PC).
This security update fixes 5 system vulnerabilities and a total of 3 vulnerabilities in the Samsung software.