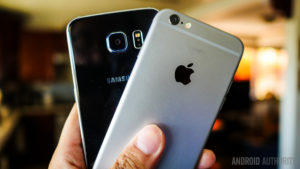 Since we are in the era of smartphones we have heard that Apple and Samsung are constantly in court.
In fact, most of the times it was said that companies were in court was in the same case. Apple accused Samsung of copying the design of its first iPhone with the first Galaxy S.
It is true that these days the differences are great when we look at those two devices, however, we have to see that at the time the smartphones were not exactly all the same.
Apple criticized Samsung for its first Galaxy S, sued the brand for copy of patents and design and requested compensation of one billion dollars. All the profit the Galaxy S had.
Apple and Samsung finally reached an agreement
Samsung refused to pay and said it understood the frustration, so it would pay $ 28 million for components that incorporated the Galaxy S and broke iPhone patents.
The court ruled a few weeks ago that Samsung was guilty and would have to pay Apple $ 539 million. A considerable blow to the company's accounts. The South Korean manufacturer said it would not pay the price and decided to appeal to the Supreme Court.
Now here is where things get more interesting. Because Apple was not going to the Supreme Court asking for the 539 million. They were going to ask for the billions. Samsung has already lost the case before and could lose again.
So somehow they came to an agreement with Apple. The Cupertino company and the South Korean manufacturer finally decided to agree on a value and end the war with more than 7 years.
We still do not know the values of Apple's fit. No company has released an official statement on these values. However, it will be easy to find out once the accounts of both companies are published in a few months.