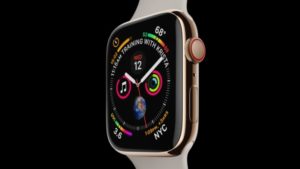 Apple started its event with the new Apple Watch series 4. The new Cupertino company product is not severely different from previous models. The device basically has the same lines with new details.
In that sense, we have a slightly larger Apple Watch Series 4. The edges of the device are smaller and the screen fuses more with the side metal.
The new Apple Watch comes in 40mm and 44mm. The smartwatch displays offer us a 32% increase in the 40mm model and 35% increase in the 44mm model.
The glass is slightly curved to create a more homogeneous design, however, it does not seem to me to be a big design difference.
New Apple Watch Series 4 focuses on your health
Something to highlight in the new smartwatch from Apple is the crown that now counts with haptic feedback. That is, the terminal vibrates slightly when you shake the crown.
Then, Apple said that the new Apple Watch Series 4 has more powerful speakers. Good news for those who like to talk on the phone through the clock.
The Cupertino company has added a new feature called the fall detector. Whenever the watch feels like it has fallen, the device notifies you with an emergency number so you can call right away. If, after the fall, do not move for a minute, the watch will immediately call your emergency contact.
The new watch still detects low heart rate, arterial fibrillation and still gives the possibility to take an electrocardiogram. In this aspect, we have here a good addition. It seems that only the United States will have these new features by the end of the year. At least for now.
10 Reasons Your Smartphone May be Charging Slowly and Possible Fixes
After talking about all the news, we obviously think about its autonomy. So we're happy to know that the Apple Watch Series 4 will have the same runtime as the previous model.
The watch comes in silver, gold and dark gray. The bracelets are the same as the previous models, meaning if you have a collection of them, will continue to work on the new watch.
Last year's model will drop to € 300. The new model will be priced at $ 399 (€ 400) and will arrive in Portugal on September 21 with pre-reserves starting on day 14. The 4G model will not reach our market.
In short, the new Apple Watch does not have great news. We have considerable improvements, but it's true that I do not think it's such a dramatic development to look sadly at your Apple Watch Series 3.