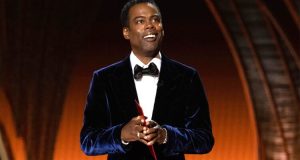 Chris Rock, the legendary stand-up comedian, has captivated audiences around the world with his sharp wit, bold humor, and fearless approach to tackling social issues. From his early days as a struggling comic to becoming one of the most influential figures in comedy, Chris Rock's journey has been a testament to his talent, hard work, and unique perspective. In this biography blog post, we will delve into the life, career, and impact of the incomparable Chris Rock.
Chris Rock Early Life and Aspiring Comedian
Christopher Julius Rock III was born on February 7, 1965, in Andrews, South Carolina. He grew up in the Bedford-Stuyvesant neighborhood of Brooklyn, New York, in a working-class family. As a child, Chris found solace in humor, often using comedy as a coping mechanism for the challenges he faced.
Rock's interest in stand-up comedy sparked at an early age when he would imitate comedians like Richard Pryor and Redd Foxx. He started performing in local comedy clubs while still in his teenage years, honing his craft and developing his unique comedic style.
Meeting Malaak Compton-Rock and Marriage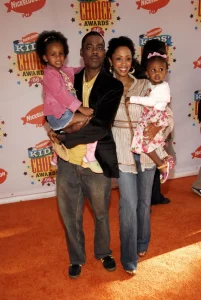 Chris Rock has a family that includes his two daughters from his previous marriage. Chris Rock was previously married to Malaak Compton-Rock, a philanthropist and advocate for social causes. They got married in 1996 and were together for nearly two decades.
During his marriage to Malaak Compton-Rock, Chris became a father to two daughters, the eldest Lola Simone Rock who was born on June 28, 2002, and Zahra Savannah Rock who was born on May 22, 2004
Chris Rock and Malaak Compton-Rock's marriage came to an end, and they divorced in 2016. Despite the divorce, they have continued to prioritize co-parenting and providing a loving and supportive environment for their daughters.
Rise to Fame: "Saturday Night Live" and "Bring the Pain"
Chris Rock's breakthrough came in the early 1990s when he joined the cast of the iconic sketch comedy show, "Saturday Night Live" (SNL). His time on SNL from 1990 to 1993 allowed him to showcase his talents to a wider audience and earned him critical acclaim.
However, it was his 1996 HBO special, "Bring the Pain," that catapulted him to stardom. The special, which featured his candid and provocative take on race relations and society, received widespread praise and won two Emmy Awards. "Bring the Pain" marked a turning point in Rock's career and solidified his status as a comedic force to be reckoned with.
Unconventional Humor and Social Commentary
Chris Rock's comedic style is characterized by its sharp observations, fearlessness in addressing controversial topics, and keen social commentary. His routines delve into subjects like race, relationships, politics, and everyday life, presenting them in an insightful yet humorous manner.
Rock's ability to infuse his comedy with social commentary has been instrumental in sparking discussions about important issues. He has a unique talent for shedding light on sensitive topics while making audiences laugh, encouraging them to think critically about the world around them.
Chris Rock Film and Television Success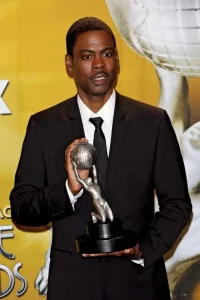 Beyond stand-up comedy, Chris Rock has also found success in the world of film and television. He has appeared in numerous movies, including "Lethal Weapon 4," "Dogma," and "Madagascar," where he lent his voice to the character Marty the Zebra.
In addition to acting, Rock has written, produced, and directed several projects. One of his most notable films is "Top Five," a critically acclaimed comedy-drama that he wrote, directed, and starred in. The film garnered praise for its intelligent humor and candid exploration of the entertainment industry.
Chris Rock Awards and Recognition
Throughout his career, Chris Rock has received numerous accolades and awards for his contributions to comedy and entertainment. He has won multiple Grammy Awards for his stand-up albums, and his specials, including "Bigger & Blacker," "Never Scared," and "Tamborine," have been celebrated as some of the best in comedy history.
Rock's impact on the entertainment industry goes beyond awards and recognition. He has been listed as one of the "100 Greatest Stand-ups of All Time" by Comedy Central and was included in Time magazine's list of the "100 most influential people in the world."
Personal Life and Advocacy
Offstage, Chris Rock has been candid about his personal struggles and experiences. He has openly discussed his childhood and the challenges he faced growing up. Despite his success, Rock has remained grounded, acknowledging the importance of staying true to his roots and using comedy to connect with audiences from all walks of life.
In addition to his comedic prowess, Rock is also an advocate for various causes. He has been involved in fundraising efforts for charitable organizations and has used his platform to raise awareness about social issues, including poverty, education, and gun violence.
Chris Rock Age
Chris Rock was born on February 1965. So as of 2023, Chris Rock would be approximately 58 years old, and Chris Rock birthday is on February 7.
Chris Rock Siblings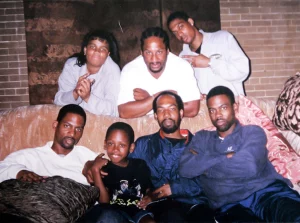 Chris Rock comes from a large family, and his siblings have been supportive of his career and success in the entertainment industry. Some of his siblings, such as Tony Rock and Jordan Rock, have also pursued careers in comedy and entertainment, following in their brother's footsteps. Here are the names of Chris Rock siblings:
Charles Rock
Kenny Rock
Jordan Rock
Andi Rock
Tony Rock
Brian Rock
Kenny Rock (yes, there are two brothers named Kenny)
Is Chrisean Rock Related to Chris Rock?
They are not at all related. They are just two people with similar last names, and this has caused confusion to the public.
Chris Rock Plastic Surgery
The question "Did Chris Rock get plastic surgery" is becoming rampant. While fans look for images of the young Chris Rock, there were no credible sources or reports suggesting that Chris Rock has undergone plastic surgery and the comedian has never accepted or denied rumors about plastic surgery.
Chris Rock is known for his natural comedic talent and sharp wit, and any discussions or rumors about plastic surgery have not been substantiated by official statements from him or his representatives. As a private individual, he has the right to maintain his privacy regarding any personal decisions or medical procedures.
However, experts believe Chris Rock has some work done on his face, lips, and nose after a careful examination of his before and after pictures.
Conclusion
Chris Rock's journey from a young boy with dreams of being a comedian to becoming one of the most influential figures in comedy has been nothing short of extraordinary. His ability to use humor as a means of social commentary and spark important discussions sets him apart as a true comedic genius.
Throughout his career, Chris Rock has entertained and enlightened audiences, leaving a lasting impact on the world of comedy and beyond. With his razor-sharp wit, fearless approach, and passion for making a difference, he continues to be a beacon of laughter and social commentary in the entertainment industry.