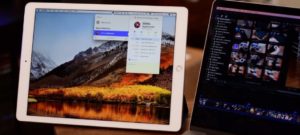 If you believe people associated with the development of macOS 10.15, the next update of the computer operating system may contain a function with which you can turn your iPad into an external display for Mac.
Developer Guillermo Rambo claims that macOS 10.15 will allow broadcasting any program to an external display or iPad.
When you press the button for opening the window, the option of translating the program to an external display, including the iPad, will appear on the entire screen . When you select the desired option, the current program window appears on the selected display or iPad .
The company called the function "Sidecar".
Moreover, this feature can turn your iPad even into a graphics tablet for Mac. You can draw with the Apple Pencil on your iPad, and the image will appear on the Mac.
"Engineers are also working on a function that will allow windows to be attached to one side of the screen, as in Windows." This part is not very clear, because Mac computers automatically fix windows from 2016.
The Sidecar feature resembles Luna Display, a device that connects to a Mac and turns an iPad into an external display.
Below you can see an overview of the adapter. Luna Display.
If you're interested, the 
Luna Display
adapter 
costs $ 80
.
It is not known whether the function will allow broadcasting applications from iOS to Mac. However, we know that iOS 13 will contain many improvements for the iPad, including detachable panels in the windows of applications.