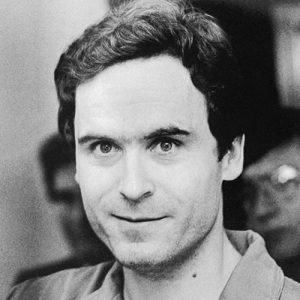 Ted Bundy, one of the most infamous serial killers in American history, was executed in the electric chair at Florida State Prison on January 24, 1989. His crimes and subsequent execution continue to be a subject of fascination, study, and debate. This blog post delves into the details of Bundy's execution, the public's reaction, and the legacy he left behind.
Also Read: Rose Bundy: The Silent Legacy of a Serial Killer's Daughter
The Crimes of Ted Bundy
Ted Bundy's criminal career spanned several years, during which he committed numerous heinous crimes, including at least 30 homicides. His victims were young women, whom he would lure with his charm and good looks before brutally assaulting and murdering them.
Bundy's modus operandi was chillingly consistent, and his ability to evade capture for so long added to his notoriety. His crimes spread across multiple states, creating a wave of fear and uncertainty that gripped the nation.
Ted Bundy's Victims: Lives Cut Short by a Notorious Killer
Ted Bundy, one of the most infamous serial killers in American history, left a trail of devastation and sorrow that continues to resonate. His victims were young women, each with their own dreams, aspirations, and families. This article pays tribute to some of the known victims of Ted Bundy, remembering them not just for the tragic way their lives ended, but for who they were.
1. Joni Lenz
One of Bundy's earliest known victims, Joni Lenz, was attacked in her sleep but miraculously survived. The assault left her with permanent physical and mental disabilities.
2. Lynda Ann Healy
Lynda Ann Healy, a law student and an accomplished musician, was abducted from her home in Seattle. Her remains were later discovered on Taylor Mountain.
3. Donna Gail Manson
A student at The Evergreen State College, Donna Gail Manson was known for her free spirit. She disappeared while on her way to a concert, and her body was never found.
4. Susan Rancourt
Susan Rancourt, an aspiring marine biologist, vanished after leaving a meeting at Central Washington State College. Her remains were found near those of other victims.
5. Roberta Kathleen Parks
Roberta Kathleen Parks was a cheerful and outgoing student at Oregon State University. She was last seen leaving her dormitory to meet friends and never returned.
6. Brenda Carol Ball
Brenda Carol Ball was known for her love of music and her independent spirit. She disappeared after leaving a tavern in Burien, Washington, and her remains were later found on Taylor Mountain.
7. Georgann Hawkins
A member of the Kappa Alpha Theta sorority, Georgann Hawkins was studying at the University of Washington. She vanished while walking back to her sorority house, and her remains were discovered years later.
8. Janice Ott
Janice Ott, a probation caseworker, was known for her compassion and dedication to helping others. She was last seen talking to Bundy at Lake Sammamish State Park.
9. Denise Naslund
Denise Naslund, a computer programming student, disappeared on the same day as Janice Ott from Lake Sammamish State Park. Her remains were found near those of Ott.
10. Nancy Wilcox
Nancy Wilcox was a high school student with a bright future. She was last seen in a Volkswagen Beetle, similar to Bundy's, and her body was never recovered.
11. Melissa Smith
The daughter of a police chief, Melissa Smith was known for her beauty and kindness. She was found murdered nine days after her disappearance.
12. Laura Aime
Laura Aime, a free-spirited young woman, disappeared on Halloween night. Her body was found a month later in a canyon.
13. Carol DaRonch
One of the few to escape Bundy's clutches, Carol DaRonch fought her way out of his car and later testified against him in court.
14. Debra Kent
A high school student, Debra Kent disappeared after a school play. Her remains were never found, but Bundy provided details of her murder before his execution.
Ted Bundy's victims were more than just statistics in a horrifying tale of violence and depravity. They were daughters, sisters, friends, and students with unique personalities and bright futures that were tragically cut short.
The impact of Bundy's crimes extends beyond the victims themselves, affecting families and communities that continue to mourn their loss. The legacy of these women, and the lessons learned from their tragic fate, continue to be a somber reminder of the importance of vigilance, empathy, and the value of every human life.
Capture and Trial
Bundy was captured in 1975 and subsequently escaped from custody twice before being recaptured in 1978. His trials were highly publicized, and his courtroom antics, including representing himself, drew significant media attention.
He was convicted of several murders and sentenced to death. The legal process was lengthy, filled with appeals and delays, but the sentence was ultimately carried out.
The Execution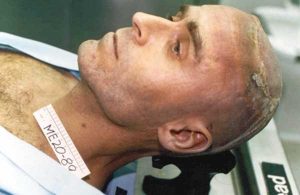 The execution of Ted Bundy was a significant event, marking the end of a dark chapter in American criminal history. On the morning of January 24, 1989, Bundy was strapped into the electric chair known as "Old Sparky" at Florida State Prison.
He was offered a last meal but declined, opting for the traditional meal of steak, eggs, hash browns, toast, milk, and juice. His last words were reported to his lawyer and a minister, expressing his love and sorrow.
The execution was carried out at 7:16 AM, and Bundy was pronounced dead shortly thereafter. Witnesses to the execution included family members of his victims, law enforcement officials, and journalists.
Public Reaction
The reaction to Bundy's execution was mixed. Some saw it as justice finally being served, while others protested the use of the death penalty. Outside the prison, crowds gathered, some celebrating and others holding vigils.
The debate over the morality and effectiveness of the death penalty was reignited, with Bundy's execution serving as a focal point for both proponents and opponents of capital punishment.
Legacy and Impact
Ted Bundy's crimes and execution continue to be a subject of study and discussion. His case has been analyzed in numerous books, documentaries, and films, contributing to the ongoing fascination with his life and crimes.
The impact of his crimes on the victims and their families is immeasurable, and the scars remain to this day. Bundy's execution also played a role in shaping the national conversation on criminal justice, the death penalty, and the nature of evil.
Ted Bundy Electric Chair Picture
Below is the Ted Bundy electric chair after pics.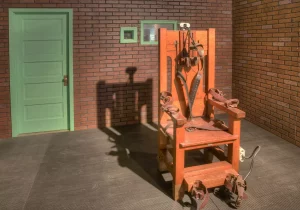 Ted Bundy Family
Ted Bundy's family background is complex and has been the subject of much speculation and confusion.
Parents and Grandparents
Ted Bundy was raised by his maternal grandparents, Samuel Cowell and Eleanor Cowell, as their own child. His biological mother, Louise Cowell, was presented as his older sister to avoid the social stigma of having a child out of wedlock. Bundy's grandmother reportedly suffered from depression and agoraphobia.
Father's Identity
The identity of Ted Bundy's biological father has been a subject of controversy. Some sources list Lloyd Marshall, an Air Force veteran, and a Penn State graduate, as his father. Other sources mention a man named Jack Worthington, and there are even rumors that his grandfather could have been his father.
Childhood
Bundy's childhood was troubled, and his family life was filled with secrets and confusion. The facade that his grandparents were his parents and his mother was his sister had a significant impact on his upbringing.
Marriage and Daughter
Ted Bundy was married to Carole Ann Boone, with whom he fathered a daughter. Rose Bundy is Ted Bundy daughter. Carole Ann Boone divorced Bundy in 1986, and she and Rose have since lived private lives.
Conclusion
The execution of Ted Bundy in the electric chair marked the end of a terrifying era of violence and fear. His crimes continue to haunt the collective memory, and his execution serves as a reminder of the complex and often divisive issues surrounding criminal justice and capital punishment.
Bundy's story is a grim testament to the human capacity for evil, but also a reflection of society's ongoing struggle to understand, prevent, and punish such acts. His legacy continues to provoke thought, debate, and reflection, ensuring that the name Ted Bundy will not soon be forgotten.