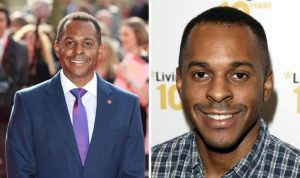 Who is Andi Peters? Andi Peters, a name that has become synonymous with British television, has carved a niche for himself with his unique presenting style, infectious energy, and undeniable charisma. From children's television to reality shows, Peters has showcased versatility that few can match. This article delves deep into the life and career of Andi Peters, exploring his early years, rise to fame, notable achievements, and his impact on the British television landscape.
Also Read: Chris Rock: A Biography of The Comedy King
Early Life and Beginnings
Born on 29th July 1970 in Chelsea, London, Andi Eleazu Peters exhibited a penchant for the arts from a tender age. His formative years were a melange of academic pursuits and extracurricular activities, with a particular inclination towards drama and performance.
Education and Initial Forays into Television
Peters' educational journey was marked by creativity and a penchant for performance. While specifics about his academic pursuits remain discreet, it's evident that his early life was crucible for his later career in television.
Rise to Fame: From "Broom Cupboard" to Mainstream Television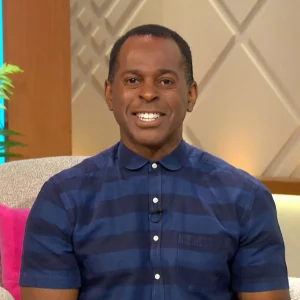 The "Broom Cupboard" Era
Peters' initial claim to fame was his stint on CBBC's "Broom Cupboard." His natural rapport with the audience, combined with his interactions with puppet co-hosts like Edd the Duck, made him an instant hit with young viewers. This period was seminal in establishing Peters as a household name.
Transition to Mainstream Television
After his success with children's television, Peters seamlessly transitioned to mainstream TV. His roles in shows like "Live & Kicking" and "Dancing on Ice" showcased his versatility as a presenter, able to cater to both young audiences and adults with equal aplomb.
Notable Achievements: A Career Bedecked with Milestones
Pioneering Roles in Television
Peters' career is replete with pioneering roles. He was one of the first Black presenters on children's BBC, breaking barriers and setting precedents. His work on "T4" and "The Noise" further solidified his reputation as a trendsetter in the industry.
Notable Television Endeavours
Over the years, Peters has been associated with a plethora of television shows, each showcasing a different facet of his multifarious talents:
"Live & Kicking": Co-hosting this Saturday morning magazine show, Peters demonstrated his versatility, juggling interviews, competitions, and live music segments with aplomb.
"Dancing on Ice": A testament to his indefatigable spirit, Peters participated in this reality show, proving that he wasn't just a presenter but a performer too.
"Good Morning Britain": In this avatar, Peters showcased a more mature side, discussing current affairs and interviewing a diverse array of guests.
Awards and Recognitions
Over the years, Peters' contributions to television have been recognized with numerous awards and accolades. His ability to connect with audiences, combined with his innovative approach to presenting, has earned him a place among the pantheon of British TV greats.
Impact on British Television
Championing Diversity
Peters' presence on British television in the late 80s and 90s was groundbreaking. As one of the few Black presenters at the time, he played a pivotal role in championing diversity on screen, paving the way for future generations of diverse talent.
Setting New Standards in Presenting
Beyond his role in promoting diversity, Peters has also set new standards in presenting. His effervescent style, combined with his ability to adroitly handle both scripted and unscripted moments, has redefined what it means to be a TV presenter in the UK.
Philanthropic Pursuits
Beyond the glitz and glamour of television, Peters harbors a profound altruistic streak. He has been associated with numerous charitable endeavors, leveraging his fame to shine a spotlight on pressing societal issues. His work with children's charities, in particular, underscores his commitment to creating a better future.
Personal Life: An Enigma
While Peters is ubiquitous on television, he remains an enigma when it comes to his personal life. Eschewing the typical celebrity lifestyle, he maintains a reticent stance on matters of the heart, adding an air of mystery to his persona.
Conclusion: The Enduring Legacy of Andi Peters
Andi Peters is not just a TV presenter; he is an institution in British television. His journey from the "Broom Cupboard" to mainstream TV is a testament to his talent, determination, and unique flair. Through his pioneering roles, awards, and impact on the industry, Peters has left an indelible mark on British television.
His story serves as an inspiration, a reminder that with passion, innovation, and a commitment to breaking barriers, one can achieve unparalleled success. As viewers continue to be regaled by his on-screen presence, Andi Peters' legacy as a trailblazer and quintessential British TV presenter remains firmly etched in the annals of television history.
FAQs About Andi Peters
Q: is Andi Peters gay?
Ans: Andi Peters, the British TV presenter, has not publicly come out about his sexuality or made any official statements regarding it. While there have been rumors and speculations about his sexuality, as is common with many celebrities, there is no concrete evidence or confirmation from Andi Peters himself. He has mentioned being single on Twitter, but beyond that, details about his personal life remain private.
Q: Andi Peters Net Worth?
Ans: Andi Peters has an estimated net worth of $4 million. This accumulation of wealth can be attributed to his longstanding career in television, spanning various roles from presenting to producing.
Q: Andi Peters Wife?
Ans: Andi Peters is known for being incredibly private about his personal life. He has not publicly disclosed details about his current relationship status. Some fans speculated that he might be married to Emma Forbes, but there's no confirmation on this.
Q: Who is Andi Peters' Wife?
Ans: As mentioned, Andi Peters has not publicly confirmed being married. There have been speculations linking him to Emma Forbes, but there's no concrete evidence to support this claim.
Q: Andi Peters Competition Today
Ans: Andi Peters is known for presenting various competitions on "Good Morning Britain." However, the specific details of today's competition are not immediately available from the provided sources. You might want to check the official "Good Morning Britain" website or their broadcast for the most up-to-date information.
Q: Andi Peters Age?
Ans: Andi Peters was born on 29th July 1970, making him 53 years old as of 2023.