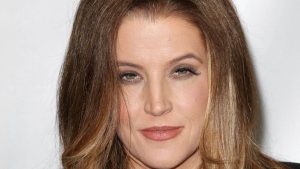 Lisa Marie Presley, a name synonymous with musical royalty, is the only child of the legendary Elvis Presley and his wife, Priscilla. Her life, marked by a blend of fame, talent, and personal struggles, is a fascinating tale that intertwines with the legacy of her iconic father. This article delves into the multifaceted life of Lisa Marie Presley, exploring her early years, musical career, personal life, and philanthropic endeavors.
Early Years: A Princess Born to Rock 'n' Roll Royalty
Born into Stardom
Lisa Marie was born on February 1, 1968, in Memphis, Tennessee. Her birth was a media spectacle, as she was the progeny of the "King of Rock 'n' Roll." From her earliest days, she was ensconced in the opulent surroundings of Graceland, Elvis's famed residence.
Childhood Amidst Fame
Growing up in the public eye, Lisa Marie's childhood was anything but ordinary. Her every move was scrutinized by the media, and she was often seen accompanying her father to various events. Despite the glitz and glamour, she has often spoken of a loving and close relationship with her father.
Education and Personal Development
Lisa Marie's education was a blend of traditional schooling and home tutoring. Her artistic inclinations were evident early on, and she was nurtured in an environment that celebrated creativity. The dichotomy of her existence, caught between normalcy and fame, shaped her unique worldview.
Impact of Elvis's Death
The untimely death of Elvis in 1977 had a profound impact on young Lisa Marie. At just nine years old, she was thrust into the spotlight as the heir to her father's estate. The loss of her father shaped her adolescence and influenced her future artistic endeavors.
Musical Career: Echoing Her Father's Legacy
Debut Album "To Whom It May Concern"
In 2003, Lisa Marie embarked on her own musical journey with the release of her debut album, "To Whom It May Concern." The album was a commercial success, reaching No. 5 on the Billboard 200 chart. Her voice, imbued with a sultry tone, resonated with fans of her father.
Subsequent Releases and Collaborations
Lisa Marie continued to forge her path in the music industry with subsequent albums, including "Now What" and "Storm & Grace." Collaborations with renowned artists and a duet with her father's voice on "In the Ghetto" further solidified her place in the musical landscape.
Musical Style and Influence
Her musical style, a blend of rock, country, and blues, reflects her Southern roots and the influence of her father's legacy. Yet, she has managed to carve out a unique identity, infusing her music with personal experiences and emotions.
Personal Life: Triumphs and Tribulations
Marriages and Family
Lisa Marie's personal life has been marked by high-profile marriages, including to Michael Jackson and Nicolas Cage. Her relationships have often been the subject of media fascination. Despite the public attention, she has raised four children, maintaining a strong focus on family.
Alos Read: Chrisean Rock: The Multifaceted Star of the American Entertainment Industry
Lisa Marie Presley Spouse
Lisa Marie Presley has been married four times. Her spouses and relationships have often attracted media attention due to their high-profile nature. Here's a brief overview of her marriages:
Danny Keough (1988–1994): Lisa Marie's first marriage was to musician Danny Keough. The couple had two children together, Danielle Riley and Benjamin. Despite their divorce, they remained close friends.
Michael Jackson (1994–1996): Shortly after her divorce from Keough, Lisa Marie married pop superstar Michael Jackson. Their marriage was highly publicized and surrounded by speculation. They divorced less than two years later.
Nicolas Cage (2002–2004): Lisa Marie's marriage to actor Nicolas Cage was another high-profile relationship. The marriage was short-lived, with Cage filing for divorce just three months after the wedding. The divorce proceedings took longer than the marriage itself, finalizing in 2004.
Michael Lockwood (2006–2016): Lisa Marie married her guitarist and music producer Michael Lockwood in 2006. They had twin daughters, Harper and Finley. The couple's divorce proceedings were marked by legal battles and public disputes.
Lisa Marie's relationships and marriages have been a significant aspect of her personal life, reflecting both her triumphs and tribulations. Her connections with such well-known figures have contributed to her public persona, while also providing insight into her private life and the complexities of love and partnership in the spotlight.
Lisa Marie Presley Children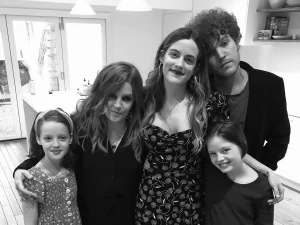 Lisa Marie Presley is the mother of four children, each of whom has experienced the unique circumstance of being part of one of the most famous families in entertainment history. Here's a look at Lisa Marie Presley kids:
Danielle Riley Keough (born May 29, 1989): Often known as Riley Keough, she is Lisa Marie's eldest daughter with her first husband, Danny Keough. Riley has made a name for herself as an actress and model, appearing in films such as "Mad Max: Fury Road" and "American Honey."
Benjamin Keough (born October 21, 1992 – July 12, 2020): Benjamin was Lisa Marie's only son and the striking resemblance he bore to his grandfather, Elvis Presley, often drew attention. Tragically, Benjamin died by suicide in July 2020 at the age of 27, a loss that deeply affected the family.
Harper Vivienne Ann Lockwood (born October 7, 2008): One of the twin daughters from Lisa Marie's marriage to Michael Lockwood, Harper is one of the younger members of the Presley family.
Finley Aaron Love Lockwood (born October 7, 2008): Finley is Harper's twin sister. The twins have largely been kept out of the public eye, and Lisa Marie has been protective of their privacy.
Lisa Marie's children have each experienced the spotlight in different ways. While Riley has embraced a career in entertainment, the others have lived more private lives. The family's joys and sorrows have often been public, reflecting the complex interplay between fame and family life. The legacy of their grandfather, Elvis Presley, undoubtedly adds a unique dimension to their identities, but each has their own path and individuality within the broader context of the Presley family.
Struggles and Resilience
Her life was not without challenges. From battling addiction to facing financial difficulties, Lisa Marie faced numerous obstacles. Her resilience and ability to overcome these challenges spoke to her strength and character.
Lisa Marie Presley Cause of Death
Lisa Marie Presley died after developing a small bowel obstruction, a severe complication of bariatric surgery that she had undergone years before. This information has been confirmed by various sources, including the Los Angeles County medical examiner's office.
Lisa Marie Presley Net Worth
Lisa Marie Presley's net worth at the time of her death appears to have been negative, with varying estimates reported. Some sources state that her net worth was negative $10 million, while others report it as negative $16 million.
Lisa Marie Presley Funeral
Lisa Marie Presley's funeral was a significant event that drew attention from fans and celebrities alike. More than a thousand people gathered at Graceland, Elvis Presley's former home, to mourn her death and celebrate her life.
Fans and celebrities gather at Graceland to mourn Lisa Marie Presley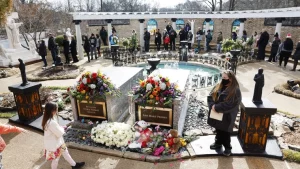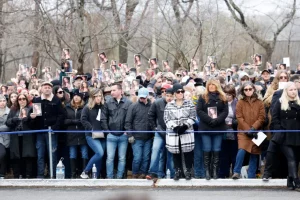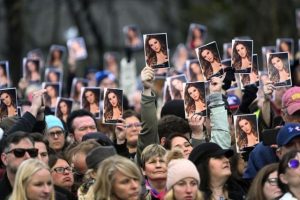 Philanthropic Endeavors: A Legacy of Giving
Commitment to Charity
Following in her father's philanthropic footsteps, Lisa Marie has been actively involved in various charitable organizations. Her commitment to giving back is evident in her support for causes such as homelessness and disaster relief.
Presley Charitable Foundation
In 2007, Lisa Marie established the Presley Charitable Foundation, focusing on providing housing for homeless families. The foundation's work is a testament to her dedication to social responsibility and her desire to make a positive impact on the world.
Conclusion: A Life Interwoven with Legacy
Lisa Marie Presley's life is a tapestry interwoven with the legacy of her father, Elvis Presley. From her early years in the spotlight to her own musical career and philanthropic efforts, she has navigated the complexities of fame with grace and authenticity. Her story is not merely a reflection of her lineage but a testament to her individuality, talent, and enduring connection to a father who continues to be an icon in the world of music. Her journey, filled with both triumphs and tribulations, serves as an inspiring narrative for those seeking to understand the human side of a life lived in the public eye.
Most FAQs About Lisa Marie Presley
How old is Lisa Marie Presley?
Lisa Marie Presley was born on February 1, 1968, and she passed away on January 12, 2023, making her 54 years old at the time of her death.
What happened to Lisa Marie Presley?
Lisa Marie Presley died after suffering cardiac arrest at her home in Calabasas, California. She was rushed to the hospital but later passed away. The cardiac arrest was a result of small bowel obstruction, a severe complication of bariatric surgery she had undergone years before.
How tall is Lisa Marie Presley? / Lisa Marie Presley height / How tall was Lisa Marie Presley?
Lisa Marie Presley's height was reported to be approximately 5 feet 3 inches (160 cm).
These answers provide a summary of the information related to Lisa Marie Presley's age, what happened to her, and her height. If you need more detailed information or have any other questions, please feel free to ask!
Lisa Marie Presley Cardiac?
Lisa Marie Presley's death was indeed associated with cardiac arrest. She suffered from suspected cardiac arrest following a small bowel obstruction caused by scar tissue. The obstruction was a severe complication of bariatric surgery that she had undergone years before.
Lisa Marie Presley Hospitalized?
Lisa Marie Presley was hospitalized after suffering cardiac arrest at her home in Calabasas, California. She was rushed to the hospital following the medical emergency, where she later passed away.