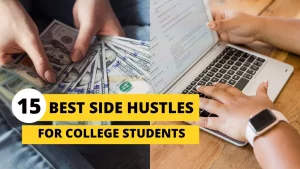 When choosing a side hustle, it is important to consider your skills, interests, and time constraints. College life can be exhilarating, but it often comes with financial challenges. Balancing tuition fees, housing costs, textbooks, and the desire for a social life can strain a student's budget. Enter the world of side hustles, which can alleviate financial pressure and offer invaluable experiences beyond the classroom. In this comprehensive guide, we'll explore the best side hustles for college students.
Best Side Hustles for College Students
1. Freelancing
The digital age has made freelancing more accessible than ever. College students can utilize their skills in writing, graphic design, web development, or social media management to secure freelance gigs. Websites like Upwork, Fiverr, and Freelancer are excellent platforms for finding such opportunities.
2. Tutoring
College students often excel in specific subjects, and this knowledge can be turned into a lucrative side hustle by offering tutoring services. Whether it's high school subjects or college-level coursework, tutoring can be done in person or online through platforms like Wyzant or Chegg Tutors.
3. Delivery Driving
With the rise of food delivery apps like UberEats, DoorDash, or Instacart, students can earn money by delivering food or groceries in their spare time. It offers a flexible schedule and can be an excellent way to earn on your terms.
4. Part-time Retail or Hospitality
Working part-time in retail stores, restaurants, or cafes is a classic way for college students to make money. These jobs often offer flexible hours and, in some cases, discounts on merchandise or meals, helping you save money on daily expenses.
5. Dog Walking or Pet Sitting
For animal lovers, dog walking or pet sitting can be a delightful side hustle. Websites like Rover and Wag! connect pet owners with pet caregivers. It's not only a source of income but also a great stress reliever for students.
6. Online Surveys and Reviews
Several websites offer money or gift cards for completing surveys or writing reviews. While the pay may not be substantial, it's an easy and flexible way to earn a little extra cash during your downtime. Websites like Swagbucks and Survey Junkie are popular in this domain.
7. Photography
If you have a passion for photography and own a decent camera, you can offer photography services for events, portraits, or even stock photography. Building a portfolio and marketing your services can lead to a rewarding side hustle.
8. E-commerce and Reselling
Utilize platforms like eBay, Etsy, or Amazon to sell second-hand items, handmade crafts, or even dropship products. This side hustle requires some initial investment and effort, but it can yield significant returns.
9. Fitness Instructor or Personal Trainer
If you're into fitness and have the necessary qualifications or certifications, you can become a fitness instructor or personal trainer. Offer your services at local gyms, conduct outdoor fitness classes, or provide personalized training sessions.
10. Language Translation
Fluency in multiple languages can be a valuable asset. Offer your services as a translator for documents, websites, or even in-person meetings. Online platforms like TranslatorsCafe and ProZ.com can help you find translation gigs.
11. Event Planning or Party Hosting
If you have organizational skills and enjoy planning events, consider offering event planning services for parties or gatherings. With creativity and attention to detail, this side hustle can become quite profitable.
12. Blogging or Content Creation
Starting a blog or creating content on platforms like YouTube or Instagram can eventually generate income through advertising, sponsorships, and affiliate marketing. Find a niche you're passionate about and start creating engaging content.
13. Renting Your Space
If you have extra space in your apartment or house, consider renting it out on platforms like Airbnb. This can be a significant source of passive income, especially if you live in a popular tourist destination.
14. Handmade Crafts and Artwork
If you have a knack for creating art, crafts, or handmade products, consider selling them online on platforms like Etsy or at local craft fairs. Turn your creativity into a profitable venture.
15. Virtual Assistant
Offer your organizational and administrative skills to entrepreneurs, small businesses, or busy professionals by becoming a virtual assistant. Tasks can range from managing emails to scheduling appointments.
Conclusion
Side hustles provide college students with not only financial benefits but also valuable life experiences and skills that can complement their academic education. It's crucial to choose a side hustle that aligns with your interests, skills, and schedule to ensure a fulfilling and successful experience. So, explore the options, embark on your side hustle journey, and pave your way to financial stability and personal growth during your college years.